Eine Liste mit passenden Keywords zu einem Blog ist schnell erstellt. Man weißt ja meistens, über welche Themen man so schreibt, bzw. schreiben will. Doch was dann?
Es gibt eine Reihe an Tools – sogenannte Blog Titel Generators – die aus Keywords einen zufälligen Blogartikel-Titel erstellen. Das ist die optimale Inspiration für mögliche neue Blogbeiträge.
Das bekannteste unter diesen Tools ist HubSpot's Blog Topic Generator.
Einfach 3 Keywords oder sogar Sätze eingeben und man erhält zufällige Vorschläge.
Im folgenden Beispiel habe ich als Keywords "Entrepreneur", "Start Up" und "Social" eingegeben: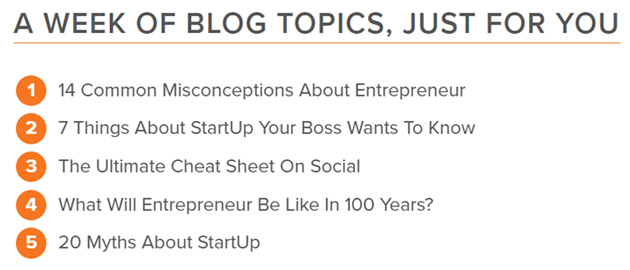 14 Common Misconceptions About Entrepreneur
7 Things About StartUp Your Boss Wants To Know
The Ultimate Cheat Sheet On Social
What Will Entrepreneur Be Like In 100 Years?
20 Myths About StartUp
Weitere Generatoren:
Für den den Blog Title Generator von Impact benötigt man keine Keywords. Er gibt "Fill in the blank" Titel aus, die man dann mit eigenen Wörtern ergänzen kann. Jeder erstellte Titel kann durch ein Klick auf das Herz gespeichert und später per E-Mail versendet werden.
Content Row stellt ein Tool zur Verfügung, welches sie Link Bait Title Generator nennen. Durch die Eingabe eines Keywords erhält man 25 Titel Ideen, die alle sehr aggressiv formuliert sind.
z.B.: guns don't kill people — entrepreneur kills people
Themeforest's ContentIdeator listet um die 300 existierende Blog Artikel zu dem eingegeben Keyword auf. Wo man bei Google alle möglichen Treffer zu einem Keyword bekommt, gibt der ContentIdeator nur Blogartikel zu dem Thema aus.
Der Content Idea Generator von Portent gibt nicht nur eine Titel Idee zum eingegeben Keyword aus, sondern gleichzeitig auch Tipps, die sich auf die einzelnen Abschnitte des neuen Titels beziehen.
Der Tweak Your Biz Title Generator erstellt zu einem Keyword, welches man entweder als Substantiv oder als Verb definiert, verschiedene Titel Ideen in den Kategorien: Lists, Best, How To, Questions, Love, Sex, Celebrities, Secrets, Snark, Business, Motivation, Problem und The Kitchen Sink